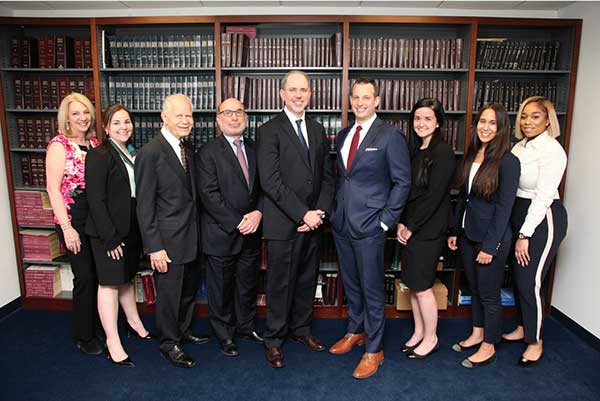 Conveniently located in lower Manhattan, DSB draws on its considerable knowledge and experience to provide clients with superior representation in all aspects of corporate and commercial litigation, employment law, labor relations, executive compensation, trusts and estates and criminal law. We regularly represent clients in federal and state courts and in arbitrations, as well as before federal and state administrative agencies, including the Equal Employment Opportunity Commission and the National Labor Relations Board. With an emphasis on individual client services, our attorneys offer thoughtful, bold and innovative solutions to complex legal issues, as well as comprehensive counseling on business strategies. While the bulk of the firm's work is centered in the Greater New York area, our attorneys also handle arbitrations and litigations in federal and bankruptcy courts in other states.
DSB is dedicated to providing the highest level of legal services in a cost-effective manner that only a small, dynamic firm such as ours can offer.  In fact, members of DSB's legal team have been ranked in Super Lawyers® and recognized as Rising Stars℠ by Super Lawyers® in the New York Metro Area. This distinction is afforded to only the top 5% of lawyers in the New York Metro Area.
DSB partners and associates work closely with each of our clients to meet each client's personalized needs. We recognize that cost consciousness and cost effectiveness are critical parts of representing the best interests of our clients. Among other ways, we manage costs through pursuing alternatives to litigation, such as mediation and arbitration.
Our unwavering standard of excellence guides our attorneys in representing individuals and companies in a wide variety of businesses including Taft-Hartley multi-employer benefit funds, employer associations, oil and natural gas, finance, construction, sanitation, recycling, transportation, commercial moving, not for profit, advertising and marketing, education, restaurants and the legal profession.
Our guiding principle is that working closely with our clients, combined with meticulous preparation, is the surest route to a successful and economical conclusion of a legal matter.
From the moment you become a client of DSB, we will work closely with you in resolving your legal issues and we will counsel you in looking beyond your current needs to help you plan and achieve your long term goals and objectives.